Distinguished psychologist Carlo Diclemente Ph.D,, whose field of expertise is Addiction and Health Behaviour Change, has given our book "Addiction and Choice: Rethinking the Relationship" a very positive, thorough and balanced review.
Currently teaching at the University of Maryland, Professor Diclemente himself has written hundreds of research papers and several books, so we were particularly delighted to receive such a good and thoughtful review.
In his review, he calls the book "a comprehensive, historically rich, sophisticated, and research-supported exploration of addiction, its definition, and the ongoing debate about the role of choice in the phenomenon of addiction."
Diclemente also notes that the authors of some of the chapters "represent many of my heroes in addiction research and practice who are innovators and creative thinkers pushing the boundaries of our understanding of addiction."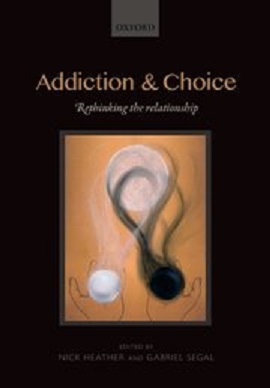 The professor also recommends that the book will likely be challenging and interesting for psychologists, philosophers, behavioural scientists, neuroscientists, curious clinicians, and researchers with a wide array of interests,
The full review can be found in PsycCRITIQUES October 23, 2017, Vol. 62, No. 42, Article 1 © 2017 American Psychological Association.
If you are interested in reading the book and looking at addiction from a whole range of perspectives, you can find "Addiction and Choice "on Amazon UK, Amazon.com, and it can be ordered from all good bookshops.
Thank you, Professor Diclemente.
Addiction and Choice: Rethinking the Relationship
Nick Heather and Gabriel Segal (Eds.)
Oxford University Press
ISBN 978-0-19-872722-4.