I woke up today happy and positive after yesterday's event for DiversityInCare, a charity I am very proud to be a trustee for. Yesterday, we put on a presentation to a solicitors firm about a programme we were hoping to run for their clients.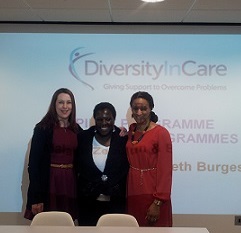 Fisher Meredith has many divisions, and is a leader in law - not only because of their professionalism, but because they like to go one step further in supporting their clients. We were hoping to offer therapeutic personal development workshops to some of the women they work with in the family law section, who may have multiple issues which landed them in court.
To my delight, not only were Fisher Meredith very enthusiastic about the programme, but they were full of positive thoughts about how we could best make this work for all parties concerned.
The afternoon reminded me how wonderful it is to be able to work in partnership with others to bring out your own strengths, and benefit each other.
Businesses can actually benefit massively from working with high quality charities like DiversityInCare. DInC recruits the help of specialists like myself, and my co-trainer Malakh Zebulun, to provide clients with expert help they would not necessarily otherwise be able to afford.
By supporting a charity, businesses can then have direct access to that help to support their clients. In the case of Fisher Meredith, we're hoping that the sessions we provide will enable their clients to stabilise and improve, so they can both present themselves better in court and make the solicitors' lives easier. It really is a win-win situation.
And because, as an independent charity, we are so passionate about our work, businesses can really trust us to do it well.
I became a therapi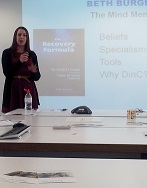 st and workshop leader because my own life history made me passionate about change - and helping others to do achieve it. DInC was set up because CEO Angela Edmondson has worked in the social care field for many years and has seen how the most vulnerable people are still being under-served. What we do meets real people's needs, and we deliver with a passion not likely to be found elsewhere.
Savvy businesses can get on board and tap into these wonderful resources. Not only will it boost their corporate social responsibility and image, but their clients will be easier to work with, and are likely to spread the word about what a great firm they are.
Click the links If you'd like to find out more about donating to, or partnering with DiversityInCare, or more about what I do, or the wonderful work of the forward-thinking team at Fisher Meredith.